Site-map
Sarkar Office Japan KK
Administrative Legal Services
Japan company registration, formation, incorporation, setting up Kabushiki-Kaisha, KK, Godo-Kaisha, GK in Japan
Japan subsidiary company registration, formation, incorporation, setting up of a Kabushiki-Kaisha, Godo-Kaisha, KK, GK in Japan
Japanese corporate tax system for investment in Japan. Income tax for branch office & subsidiary co.
Japan Immigration, work permit, status of residence, Certificate of Eligibility (COE) application & procedure
Japan Branch Office, Company, Kabushiki-Kaisha, KK, Godo-Kaisha, GK, LLC registration, incorporation - Sample documents
Sarkar Office Japan KK Information and Documents re Branch Office, Company Registration & Administrative Legal Services
Japan Administrative Legal Services: Branch office, Company (subsidiary company, Kabushiki Kaisha, KK, Godo Kaisha, GK) Registration, incorporation & formation, and post-registration statutory services Tax, Social Insurance, immigration, etc.
Japan "One-Stop Solution" "Since 1993"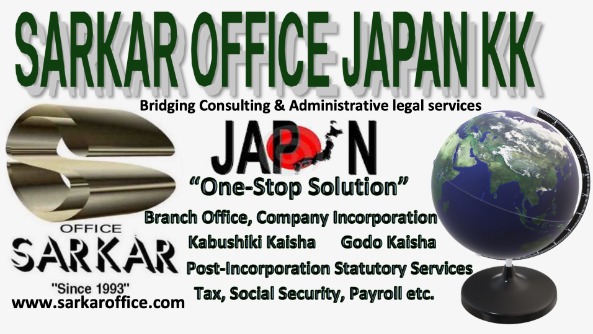 Sarkar Office Japan KK has been providing "One Stop Japan Market-Entry Solution" to foreign co. & entrepreneur since 1993.
Site-map
Sarkar Office Japan 株式会社
Bridging

Consulting Services

"India Market Entry Consulting Services for Japanese Companies" Sarkar Office Japan KK has been providing "India Market Entry Business Consulting Service" since 06~07 with the main focus to bridge the gap between Japan and India businesses and vice versa. Providing "Bridging Consulting Services" to Japanese Companies willing to do business in or with India.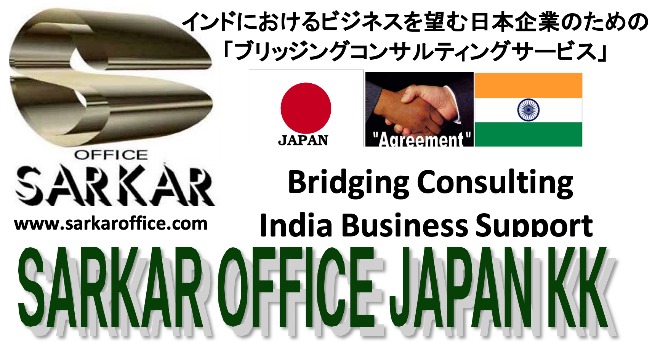 インド市場に関する日本企業のコンサルティングと実践的なサポート
Sarkar Office Japan 株式会社(SARKAR OFFICE®)は1993年に設立された経営管理コンサルティングおよび法務事務サービス会社です。サーカオフィスは、06-07年からインド向けサービスを開始しました。