Consulting & Administrative Legal Services
Sarkar Office Japan KK is a "Business Management Consulting and Administrative Legal Services" firm based in Tokyo since 1993.
Japan Administrative Legal Services: Branch office, Company (subsidiary company, Kabushiki Kaisha, KK, Godo Kaisha, GK) Registration, incorporation & formation and post registration statutory services Tax, Social Insurance, immigration etc.
Japan "One-Stop Solution" "Since 1993"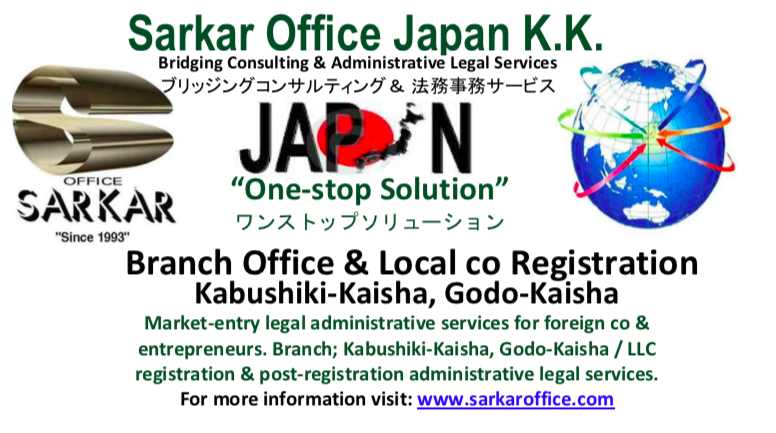 We are providing "One Stop Solution" for Administrative legal and Market Entry Support services to foreign companies and entrepreneurs both at entry and post-entry level.
Providing "Incorporation Services" regarding setting up, registration, formation of a branch office and or a subsidiary company, Kabushiki Kaisha, KK, Godo Kaisha, GK, LLC type of legal entities for foreign companies and entrepreneurs willing to start a business in Japan.
Providing "Administrative legal Services" post branch office or subsidiary (local) company registration. Ongoing post-incorporation statutory support services tax, payroll, social insurance & immigration etc. Assisting clients to set-up and run their local Japan business hassle free in a most cost-effective manner with a preplanned strategy.
Management (
Bridging

) Consulting Services

"India Market Entry Consulting Services for Japanese Companies"

Sarkar Office Japan KK has been providing "India Market Entry Business Consulting Service" since 06~07 with main focus to bridge the gap between Japan and India businesses and vice versa. Providing "Bridging Consulting Services" to Japanese Companies willing to do business in or with India.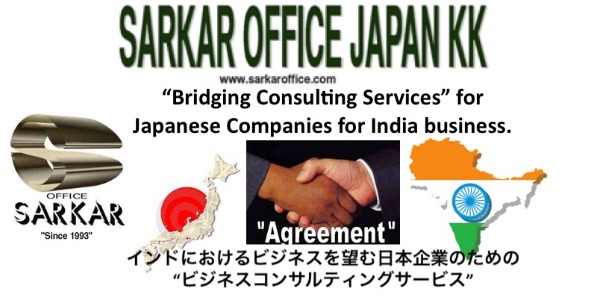 インド市場に関する日本企業のコンサルティングと実践的なサポート
Sarkar Office Japan 株式会社(SARKAR OFFICE®)は1993年に設立された経営管理コンサルティングおよび法務事務サービス会社です。サーカオフィスは、06-07年からインド向けサービスを開始しました。
サーカーオフィスは、日本にビジネスを設立しようとする外国企業のための「経営管理行政法律事務所」です。日本にビジネスを展開したい外国企業のための「ワンストップソリューション」。
サーカーオフィス ジャパン株式会社は、06年から07年にかけて日系企業向けにインドのビジネスサポートサービスを開始しました。インドとのビジネスを最も費用対効果の高い方法でサポートするため、日本企業を支援しています。 インドでビジネスをしたい日本の企業は、毎日常に変化し成長しているインド市場に精通した橋渡しコンサルタントに任せてください。